Well, November has been an interesting month…
I decided to join in with Movember again this year: fundraising for men's mental health. A good cause. But yes, I end up looking more ridiculous than usual and hating the annoying slug festering under my nose! At least tomorrow I can shave the bastard off or at least trim it right back!
Tonight, I'm supposed to be going to their Gala Parté at the Roundhouse Camden, but I came down with a heavy cold this week which is on its way out – thankfully – but is on my chest right now, so I can't really be arsed. And I'm a little bit down at the moment, if I'm honest, but shh! That's our secret, right?
Anyway, I'm getting ahead of myself.
The 6th was the Bring Me The Horizon gig at Brixton. A good one, if I'm honest, although the band's lead singer was a knob trying to look big in front of the predominantly young, female, screaming audience. More noise from them than from the stage.
That Friday it was the PurplePort London Social: it was good to meet up with some photographers and some models, including Sakura Star who'd previously said she was keen to work with me on a somewhat noir bondage and fetish project going forward: she has some excellent work on her portfolio already.
The next day it was off up to Norwich to see Norwich City beat West Ham United and thereby save Chris Hughton from the dole queue for a little longer…
The following week was fun at work: I was put forward for a major commission in Canada without my knowledge so I had a meeting planned with my boss – the owner of the business I work for – which never happened as we'd heard that I was needed in Chicago for a meeting which was then cancelled at short notice as they'd gone with a local company instead of ours. So that's parked for another day…
I had a couple of days off that week to recharge and the Wednesday was a good opportunity to have one last thrash on the Sprint before winter sets in. I headed off down to Sussex, for a "Bigboy Breakfast" at Wesson's Cafe, stopping off en route to get a warning for a dodgy numberplate as it's too small, apparently. Oops! Must order a legal one: the bike never came with one because the vanity plate came later. The that night it was off to the O2 to see Vampire Weekend and Noah and the Whale in concert. GT and I stayed for three songs, it was that rubbish…
At the weekend, GT and I were off to an 80s party in the evening: her goth'd up (more so than usual thanks to crimping her hair) and me with a poodle perm wig, Frankie Say Relax t-shirt, white linen trousers and some horrendous white canvas shoes. A late one at that, DJ-ing from my iPhone with some 80s tracks. And then there was the Sunday…
GT had a race first thing in the morning, so while she was gone I got up, bathed and had a coffee. When she got back I made more coffee and joined her in the bathroom whilst she had a post-race bath. I told her there was something wrong: I felt she wasn't that in to me any more – we've been seeing each other for nearly 3 years now on an irregular, regular basis – and that it's become more pronounced since she was promoted, working longer hours with shifts, etc. GT agreed that she seemed to have no time to put in to a relationship these days to make one work, so we agreed to split up rather than just going through the motions. We then spent the afternoon shopping in Kingston and had dinner before I left.
The following weekend was all about gigs and bikes: on Saturday it was off to the NEC for Motorcycle Live. A chance for me to buy some new Goretex Alpinestars SMX Plus bike boots in black for next summer's Austrian Eurothrash. It was also great to bump into Emma Kate Dawson for a chat and a catch-up.
Then on the Saturday night I saw Queens of the Stone Age at the Wembley Arena and as I had a spare ticket – I always buy two out of habit – I invited Sakura Star along as I knew she was at a loose end having just split up from her bloke. She showed me some great photos that another photographer had taken of her in a fab leather and feather dress which are now on her profiles having got clearance from the designers and we had a few drinks before the gig. QOTSA were excellent and SS was good company.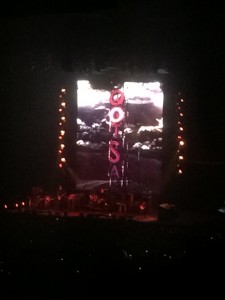 Then on the Sunday night it was off to the Hammersmith Apollo with GT to see the Pixies who were also absolutely superb.
Last week was busy: London, Birmingham and Manchester with lots of different hotels and lots of travelling. And there's more to come soon when I pop over to Toronto to speak at a major event.
At least that should keep me busy and my mind off relationships past, present and future. In the meantime, I've booked next year's holidays to Fuerteventura with my 'kids' to go with the Austrian Eurothrash.